Khentrul Lodrö T'hayé Rinpoche is a Tibetan monk and the director of the United States-based nonprofit, Katog Choling, A Tibetan Cultural Center. Khentrul Rinpoche oversees more than twenty meditation groups across North America and in China, Australia, and South Africa, as well as a large retreat center in the mountains of northwest Arkansas. He is also the abbot of a monastery in Tibet, where he established a Buddhist university, a three-year retreat center, a primary school, and other community outreach programs. 
Khentrul Rinpoche was born in Tibet in 1965, toward the end of the great famine, in the middle of the cultural revolution. At that time, the practice of Buddhism was not allowed, so practitioners in the generation directly preceding his were denied a traditional Buddhist education. Even so, when Khentrul Rinpoche was a toddler, he was recognized as a reincarnate master, or tulku. Due to the religious restrictions, this recognition was kept secret. When he was seven, he privately took the traditional vows of ordination. Slowly, policies relaxed, and by the time Rinpoche was a teenager, dharma teachings had recommenced. He was allowed to wear robes and took the opportunity to study with the last generation of great masters, those who received training prior to the cultural revolution. These masters, his teachers, have shown through their examples how to tame the mind and transform adversity in the face of enormous hardship. Khentrul Rinpoche's beloved principal root guru is His Holiness Jigmé Phuntsok Rinpoche. Other primary teachers who have cared for him with great kindness include His Holiness Katog Moksa Tulku and His Holiness Drubwang Padma Norbu Rinpoche. 
Khentrul Rinpoche is one of the only khenpos in the world to hold three khenpo degrees, the equivalent of three PhDs in Buddhist philosophy. Two of his degrees were awarded by the "Ivy League" of Nyingma Buddhist universities Larung Gar in Tibet and Namdrol Ling in India. His third khenpo degree came from Katog Monastery, the mother monastery of the Katog lineage. During the course of Khentrul Rinpoche's extensive Buddhist education, he took full ordination as a monk, spent several years in solitary retreat, and became one of the principle abbots of his family monastery. 
In 2002, Khentrul Rinpoche was invited to the United States to start a shedra, a course for studying the traditional texts on Buddhist philosophy. This has continued every year since, and has become his annual fall teaching. Although Rinpoche's extensive knowledge enables him to teach on any philosophical treatise—up to the most advanced subject matter—he chooses to focus largely on mind training, finding these techniques most relevant and effective today. This has earned him the nickname "The Mind Training Khenpo." And these are the practices Khentrul Rinpoche passes on to us like a lifeline in turbulent and disturbing times.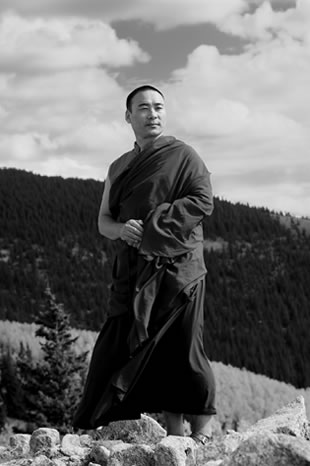 Join Our Mailing List
Sign up to be added to the email list and receive occasional emails about general updates and special events. You can always opt out at a future time if necessary.